The Society exists to keep alive the writing and memory of Fred Archer - a cherished son of the English soil and man of letters.
Of course, Fred would have chortled and choked on his tea at such lofty words - for in his own mind he was a farmer first and foremost. As for "man of letters" - Fred thought of himself as a humble storyteller with a knack for remembering.
We hope the Fred Archer website can contribute to our aims.
Please feel free to contact us - even if it is just to share your own memories or impressions of Fred, his stories, or his unique place in the literary landscape of rural England.
Tony Larkam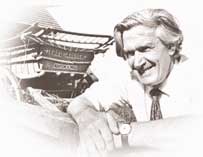 Fred at Stanley Farm, 1973.
E-mail:
info@fredarcher.co.uk
Write to:
The Fred Archer Society
20 Hazel Avenue
Evesham
Worcestershire
WR11 1XT